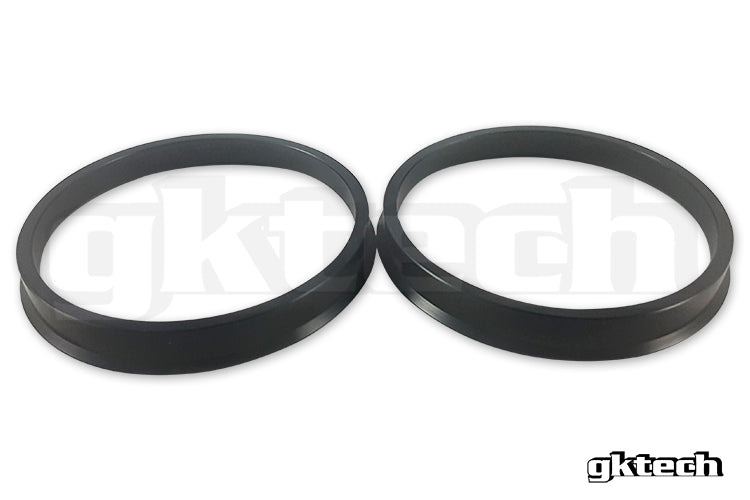 66.1mm Hub Centric Rings (Pair)
In stock
Q: What is backorder?
When a product is on backorder, it means that we have sold out and we are opening a back order due to popular demand. This is essentially a queue, when new stock arrives from production, we'll send your order.
Q: Will items in my order that are in stock be shipped out first?
We will send your order altogether once your backorder item is ready! You may wish to place separate orders if you want an item before the other is due back in stock.
Pickup available at Sunshine West, VIC 3020
Usually ready in 2 hours
66.1mm Hub Centric Rings (Pair)
66.1mm to 72.56mm
Sunshine West, VIC 3020
Pickup available, usually ready in 2 hours
Unit 11/94 Boundary Road
Sunshine West VIC 3020
Australia
📦
Free Shipping on orders over $250
Checking Dispatch Times...
The GKTECH hub centric rings are CNC Machined billet aluminum and are designed to fill the gap between the hub of your car and the center bore of the rim. This ensures that the rim is sitting 100% centered on the hub and eliminates vibrations which can lead to loose nuts, unnecessary stress on the wheel studs and potential loss of a wheel. All centric rings having an internal diameter of 66.1mm (Nissan)
Available in a range of different sizes to suit different wheel center bores. Perfect for use with our spacers. 
- 66.1mm ID to 
72.56mm
 outside diameter
- 66.1mm ID to 
73.00mm
 outside diameter 
- 66.1mm ID to 
74.10mm
 outside diameter 
NOTE: Sold as a PAIR
FAQs
Do you sell any other sized hub centric rings?
Yes we also sell hub-centric rings that are 56.1mm ID

Will these hub centric rings fit my car?
66.1mm is the hub size of most Nissan (including S13,S14,S15,180sx, R32,R33 etc) however besides these cars, we don't know. That said, Google is a very useful tool, use that instead of asking us if these will fit your car as we don't know the answer.

Will these hub centric rings fit my rims?
Depending on the inside diamter of rims, that said please ensure that these will suit your rims before buying, possibly measure if you can or check the specs of the rims. Please don't ask us if these will suit your rims as we don't know. That said, Google is a very useful and probably has the answer to your question.
VEHICLE COMPATIBILITY
Nissan
R32 SKYLINE GTR
R32 SKYLINE GTS-T
R32 SKYLINE GTS4
R33 SKYLINE GTR
R33 SKYLINE GTS
R33 SKYLINE GTS-T
R33 SKYLINE GTS4
R34 SKYLINE GT
R34 SKYLINE GT-T
R34 SKYLINE GTR
S13 CA18 180SX
S13 CA18 SILVIA
S13 SR20 180SX
S13 SR20 SILVIA
S14 200SX/SILVIA
S15 200SX/SILVIA
V35 SKYLINE
V36 SKYLINE
Z32 300ZX
Z33 350Z
Z34 370Z

Gktech is great stuff
Never had a bad product from gktech, excellent quality and price. Have been buying their products for many years and will comtinue into the future. I happily recommend their parts.
Unexpectedly fast delivery
Perfect for my TE37SL and came extremely quick.
Fast and Great Proce
I upgraded the wheels on my ProdSports Nissan Z34 to Enkei RS05RR and needed hub-centrics rings "pronto". GKTECH supplied the goods in 2 days (ordered Sunday, in my mail-box Tuesday) which is simply great service
Satisfied customer
Great product, great price and fast delivery
GKtech is the goat
Top tier product as always