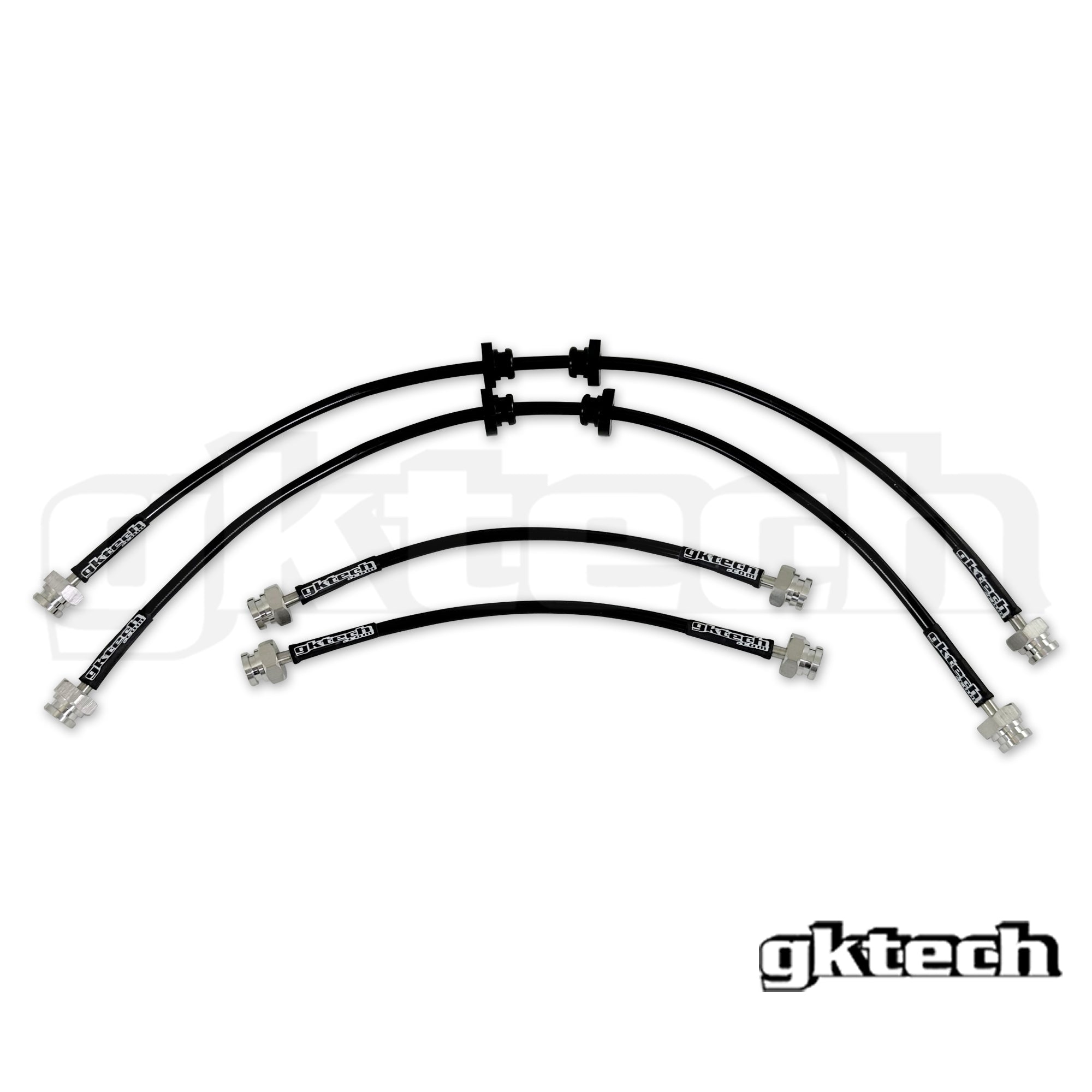 R32 GTS-T Braided Brake Line Set
Front, rear or full set? OEM replacement or hard line delete?:
OEM Replacement Front only
In stock
Q: What is backorder?
When a product is on backorder, it means that we have sold out and we are opening a back order due to popular demand. This is essentially a queue, when new stock arrives from production, we'll send your order.
Q: Will items in my order that are in stock be shipped out first?
We will send your order altogether once your backorder item is ready! You may wish to place separate orders if you want an item before the other is due back in stock.
Pickup available at Sunshine West, VIC 3020
Usually ready in 2 hours
R32 GTS-T Braided Brake Line Set
OEM Replacement Front only
Sunshine West, VIC 3020
Pickup available, usually ready in 2 hours
Unit 11/94 Boundary Road
Sunshine West VIC 3020
Australia
📦
Free Shipping on orders over $250
Checking Dispatch Times...
The GKTECH braided brake lines are a direct replacement of the factory lines and are stronger (read: more reliable) than the factory rubber lines which are prone to breaking but they also eliminate the spongy feel of the standard brake lines. The front lines are also longer to compensate for big brake setups or cars with more steering lock (which would see stretching with the factory line)
The GKTECH braided brake lines are assembled by us in-house in Australia using stainless steel fittings, stainless steel braided line with a Teflon inner tube and PVC outer for protection.They have passed independent testing and are marked as complying to FMVSS106 standards, ADR approved and are DOT compliant.
We have now made the option of either keeping your OEM hard lines at the front and rear calipers or removing them completely and having just the one braided line going to them.
FAQs
Will this fit my car?
We can only confirm fitment for the vehicles listed above under "vehicle compatibility". If your car is not listed there, then we don't know if it will fit.

If you are running either R32, R33, R34 or Z32 calipers, then these are a direct fit.

Do you make these to suit other cars?
We only sell the parts listed on our website. If it's not listed on our website, then we don't sell it. Sorry.

What's the advantage of using the GKTech brake lines?
Our lines are an OEM replacement and are stronger and more reliable than OEM. They also do not flex and swell as the OEM rubber lines do.

Do these replace both the hard and soft line?
Good question, you have the option of either our OEM replacement lines which will keep the OEM hard lines on the front and rear calipers or the option of deleting the hard lines using our hard line delete kit. 

What modifications are required, are these hard to fit?
No modifications are required, simply just remove the factory lines and refit these.

Is there anything else needed for installation?
You will need to re-bleed your brakes, so you will need tools and brake fluid, in terms of the lines they will arrive as shown in the product photo.

Can I install this myself? If so how long will installation take?
Yes, the brake lines are easy to install. Simply remove your old lines and replace them with your new lines, then tighten the lines referencing the OEM torque specs. You will then need to top up the brake fluid and bleed the brake system. However, being the brake system we recommend only a trained professional to install this product.

Will these lines also work with Brembo calipers?
If you are upgrading to the Brembo calipers released on Nissans (R33 GTR, R34 GTR and Z33/Z34's) all use the same thread and fitting type as standard Nissan items so these lines will suit.  If you're running (or planning on) running different calipers, check that the standard fitting is the same as the new calipers fitting. FYI standard Nissan calipers are all M10x1.0
Good, but…
These lines are good, but if you are into drifting, and want more angle on your r32, you need to purchase the s14/s15 style front brake lines separately so that the hardline doesn't hit your front upright arm. I am not sure why Gktech offers this style line, which doesn't work as well for big front angle.
Agreed but the S14/S15 style aren't an 'OEM' style fit on an R32 and are a bit messy with no great places to secure them.
👍👍
Just perfect. I will be order later other parts
Work great
Only installed the fronts so far but they were a direct fit. Easy installation, quality lines
R32 brake hardline replacement
worked as advertised nil issues after 500kms testing and working well. would reccomend.
Awesome
Quick and easy to install. Makes the whole brake line look that much better as well