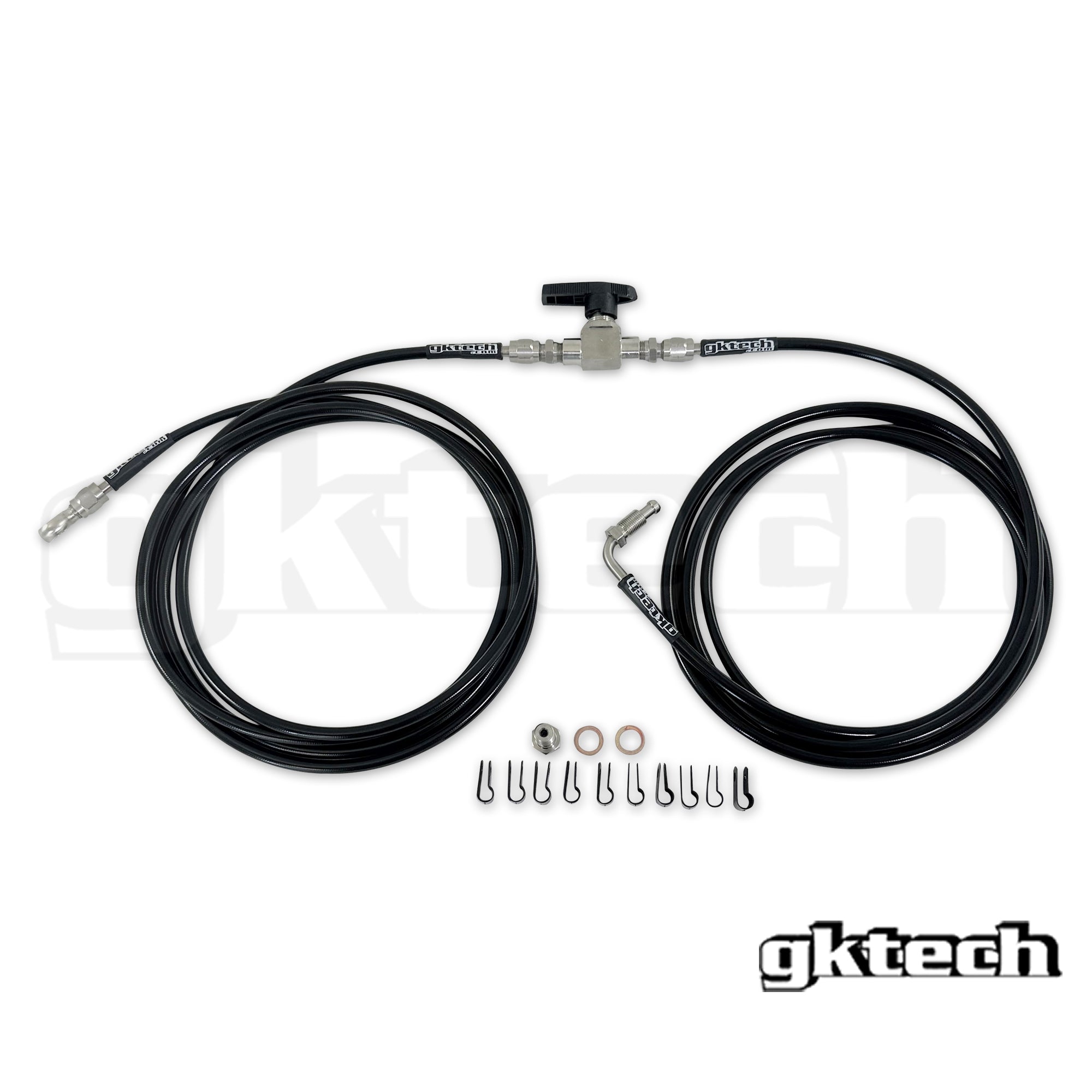 Rear Brake Line Locker Kit
In stock
Q: What is backorder?
When a product is on backorder, it means that we have sold out and we are opening a back order due to popular demand. This is essentially a queue, when new stock arrives from production, we'll send your order.
Q: Will items in my order that are in stock be shipped out first?
We will send your order altogether once your backorder item is ready! You may wish to place separate orders if you want an item before the other is due back in stock.
Pickup available at Sunshine West, VIC 3020
Usually ready in 2 hours
Rear Brake Line Locker Kit
Sunshine West, VIC 3020
Pickup available, usually ready in 2 hours
Unit 11/94 Boundary Road
Sunshine West VIC 3020
Australia
📦
Free Shipping on orders over $250
Checking Dispatch Times...
The GKTECH Rear brake line locker kit line kits are assembled by us in-house in Australia using stainless steel fittings, stainless steel braided line with a Teflon inner tube and PVC outer for protection. They have passed independent testing and are marked as complying to FMVSS106 standards, ADR approved and are DOT compliant.
We developed these kits so that the rear brake lines can be simply disengaged in the flick of a switch for your next victory burnout, without frying the rear brakes!
Our kit is super easy to install, simply remove the single hard line and connect our braided line to the master cylinder, running the lock off valve where ever you desire in the cabin, and then the braided line back to the rear brake line block in the engine bay. Total install time should be around 30 minutes.
For race cars only however no permanent modifications are required.
NOTE: Will fit both LHD and RHD vehicles

FAQs
Will this fit my car?
We can only confirm fitment for the vehicles listed above under vehicle compatibility. If your car is not listed there, then we don't know if it will fit.

Do you make these to suit other cars?
We only sell the parts listed on our website. If it's not listed on our website, then we don't sell it. Sorry.

What's the advantage of using the GKTech rear brake line locker kit?
When the vehicle is doing a burnout, the rear brakes tend to cause friction resulting in fried pads and discs (even sometimes catching fire). This small yet effective device allows you to shut off the rear brakes avoiding any pressure getting to the rear calipers. This results in a resistance-free rear brake setup.

What modifications are required, is this hard to fit?
No modifications are required, just remove the OEM hardline that goes from the master cylinder to the rear brake line block on the chassis rail, and replace it with our kit.

Is there anything else needed for installation?
You will need to supply brake fluid only. In terms of the kit, it will arrive as shown in the product photo.

Can I install this myself? If so how long will installation take?
Yes, the kit is super easy to install. Simply remove your old lines and replace them with your new lines, then tighten the lines referencing the OEM torque specs.
You will then need to top up the brake fluid and bleed the brake system. However, being the brake system we recommend only a trained professional to install this product.

VEHICLE COMPATIBILITY
NOTE: Will fit both LHD and RHD vehicles
Nissan
R32 SKYLINE GTR
R32 SKYLINE GTS-T
R33 SKYLINE GTR
R33 SKYLINE GTS-T
R34 SKYLINE GT-T
S13 CA18 180SX
S13 CA18 SILVIA
S13 SR20 180SX
S13 SR20 SILVIA
S14 200SX/SILVIA
S15 200SX/SILVIA
Z32 300ZX

Line locker
Lines and fittings are neat and work great.
Great
Thanks to the crew at Gk Tech, there rear break line locker kit works a treat. Not to mention how fast the crew was at getting it out to me
Great product and great service
Very happy will buy again.
Thanks
Product information, need to give more details about this specific product
Still the car in the garage but hardly they are trying to fix it, the reason why there is no info about this product for 350z specifically.
Hi Omar, this product is not listed as fitting a 350z and it won't work on a 350z without completely re-routing your OEM lines and deleting your ABS unit. We list the models that this kit works with and the 350z is not listed (for the above reason)
Absolutely outstanding.
Quick, easy and perfect all round.