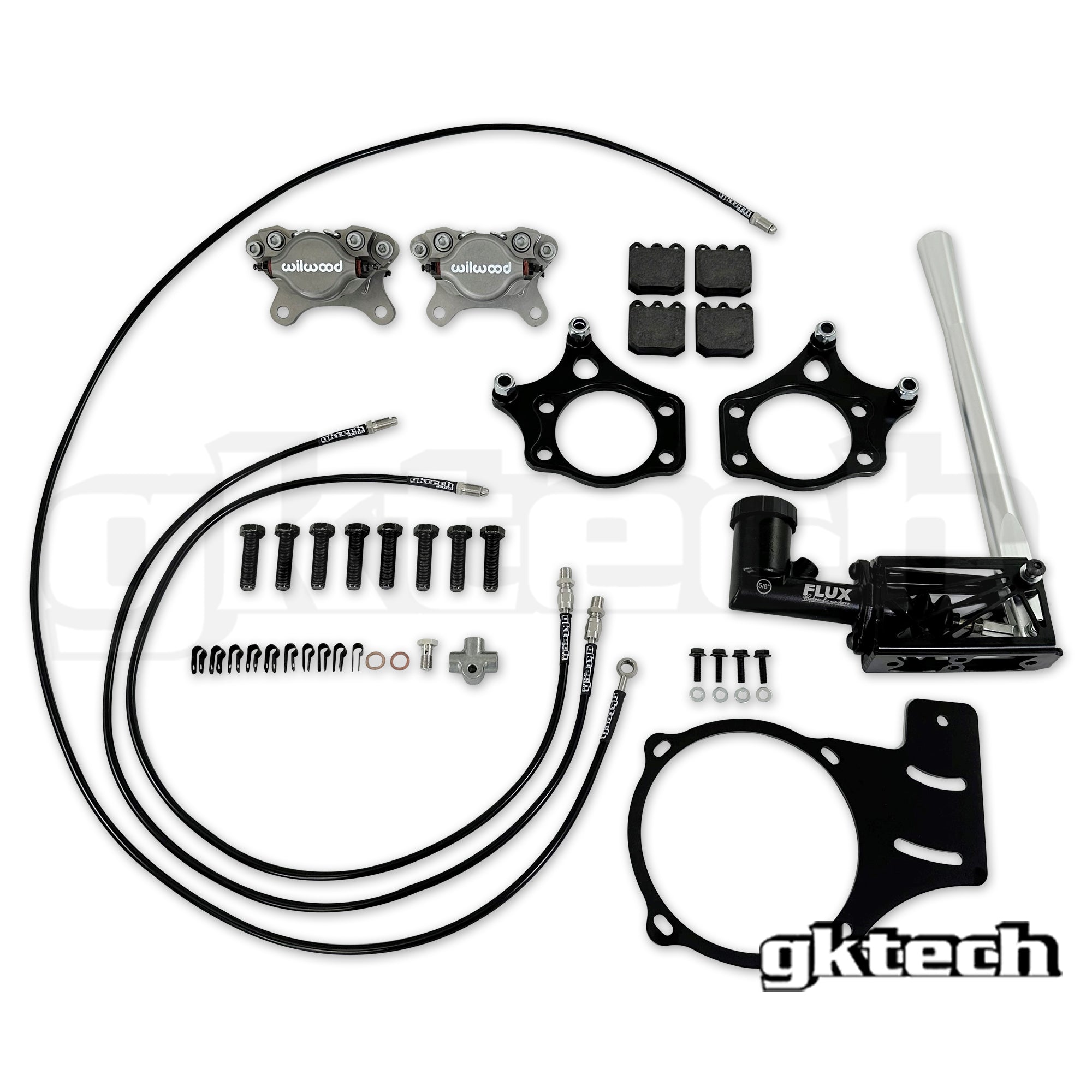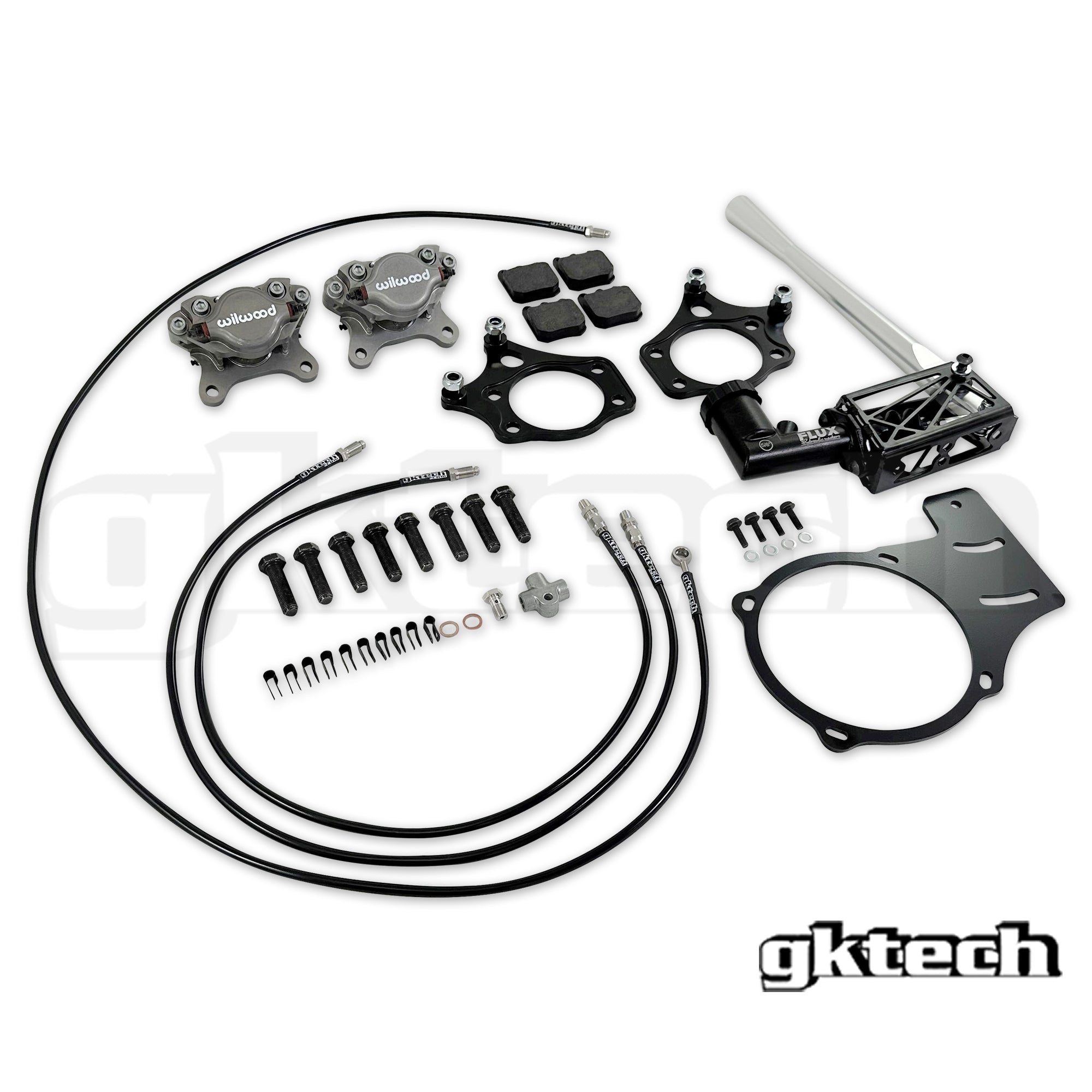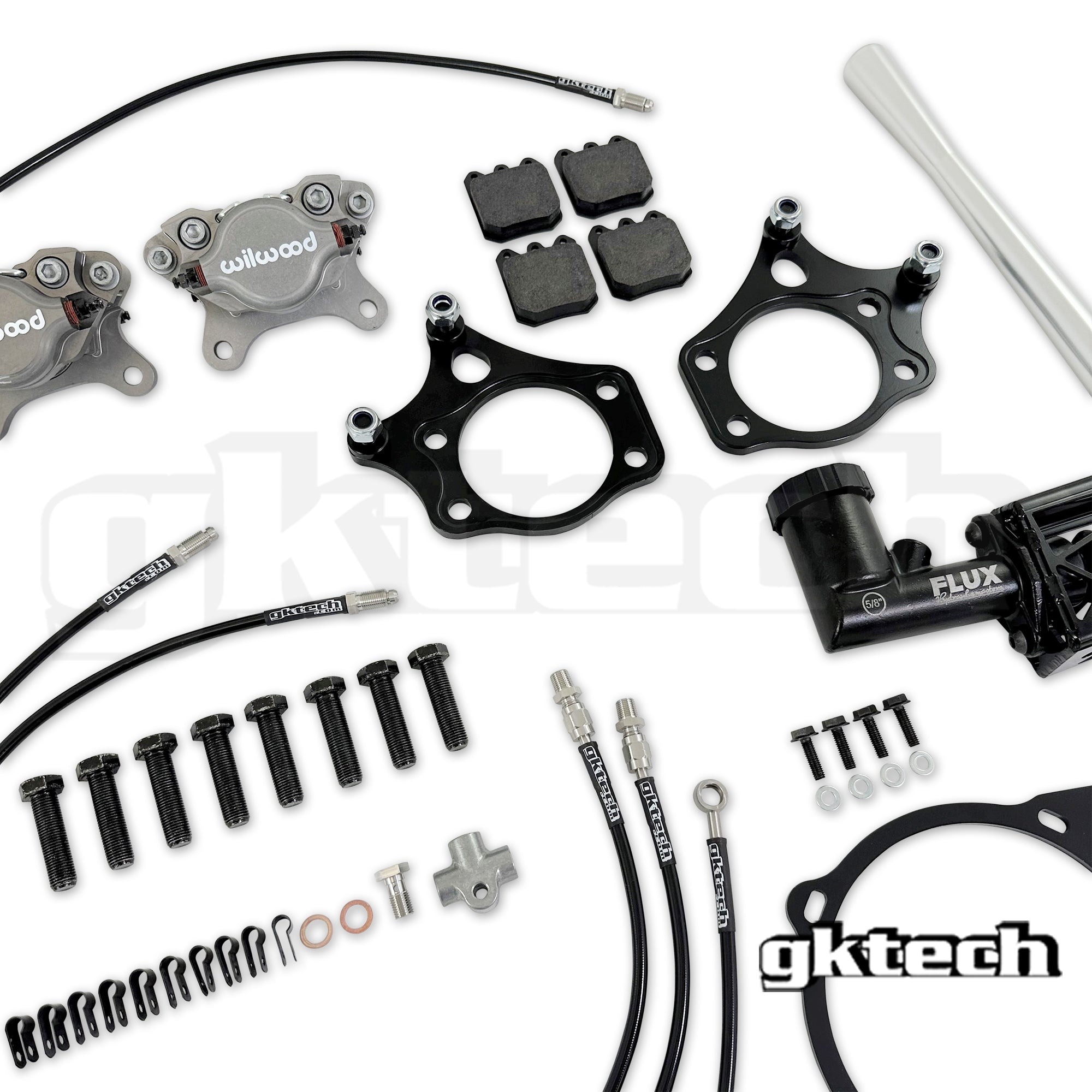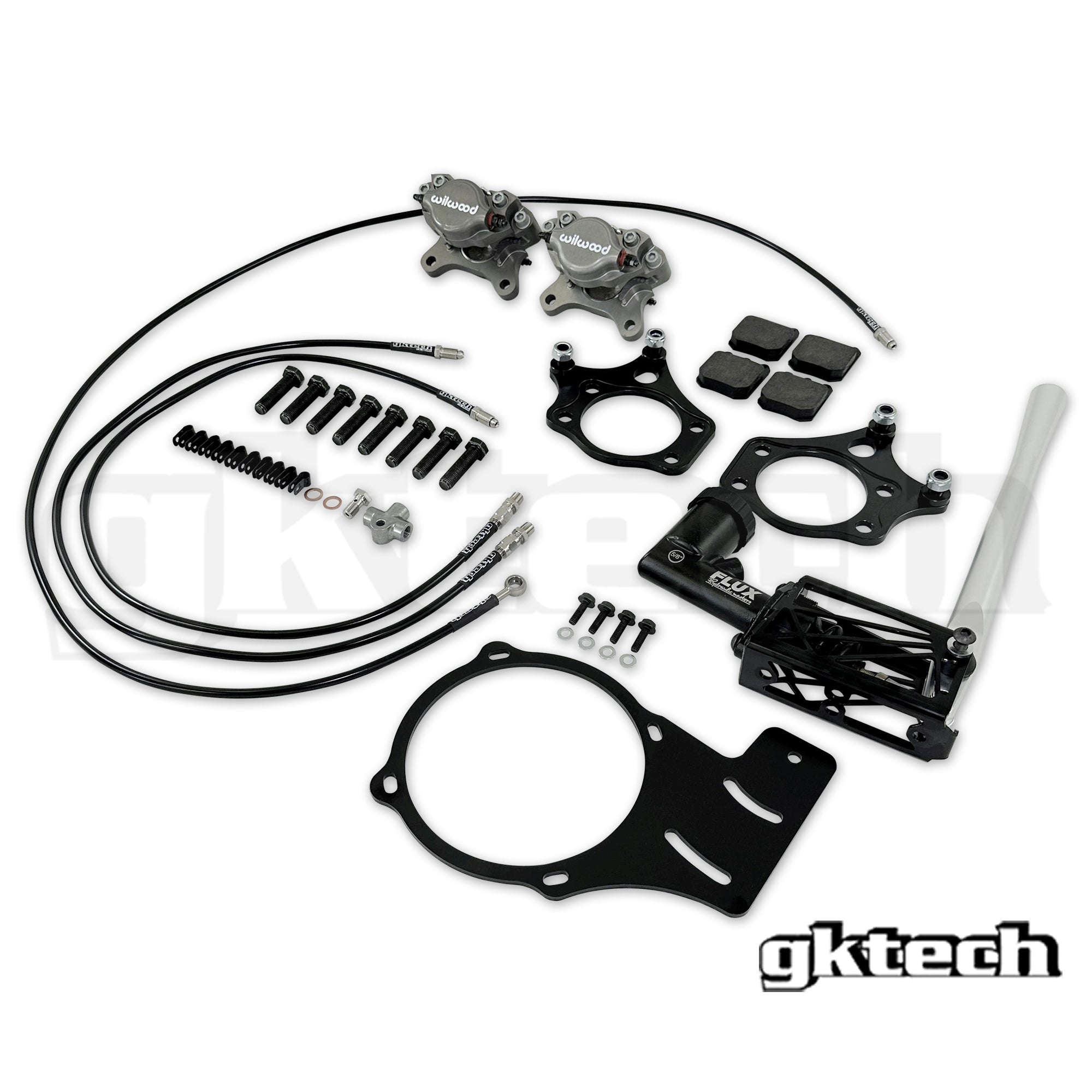 Wilwood S-chassis dual caliper Hydraulic handbrake setup - (10% combo discount)
Q: What is backorder?
When a product is on backorder, it means that we have sold out and we are opening a back order due to popular demand. This is essentially a queue, when new stock arrives from production, we'll send your order.
Q: Will items in my order that are in stock be shipped out first?
We will send your order altogether once your backorder item is ready! You may wish to place separate orders if you want an item before the other is due back in stock.
Pickup available at Sunshine West, VIC 3020
Usually ready in 2 hours
Wilwood S-chassis dual caliper Hydraulic handbrake setup - (10% combo discount)
Sunshine West, VIC 3020
Pickup available, usually ready in 2 hours
Unit 11/94 Boundary Road
Sunshine West VIC 3020
Australia
📦
Free Shipping on orders over $250
Checking Dispatch Times...
Avoid wasting time shopping around for all the individual parts, getting custom brake lines made up, or running generic parts that may or may not work. 

The GKTECH S-chassis dual calliper hydraulic handbrake setup is the only COMPLETE kit available anywhere. Literally, everything required is included and it's a range of GKTECH and Wilwood components. If you have an S-chassis and you want your rear brakes to lock up in an instant, this kit is the way to go.


The contents: 

Handbrake assembly: 
Self explanatory, this is the handbrake assembly that houses the lever and master cylinder. 

Handbrake handle:
This beautifully crafted CNC machined aluminium lever has been designed with ergonomics in mind whilst being aesthetically pleasing. Eg. it is comfortable and it looks good. Choose between silver, black, blue, pink, purple, red, orange, gold or neo chrome. 

Master cylinder:
Choose between 5/8" and 3/4". For the Wilwood 2 pot calipers our recommendation is 5/8" but more on that below in the FAQ's. 

Chassis specific handbrake mount:
Our chassis specific handbrake mounts are designed to ensure that our handbrake assembly can be fitted in an optimal position without the need to cut or drill into your transmission tunnel. These handbrake mounts are side mounted and require no trimming to the center console. This is an optional item and not required if you don't mind drilling holes into your car or want to mount the hydro within the center console. 

Dual caliper brackets:
The bracket that allows the Wilwood caliper to fit on your OEM knuckle. Note: can only be used with OEM steel knuckles. Will not work with GT-R, R34 or Z32 aluminum knuckles. 

If you are running the Gktech knuckles then you wouldn't need the bracket as the knuckles accommodate for the Wilwood calipers already.

Braided lines:
Made in-house in Australia using stainless steel fittings and using stainless steel braided line with a PTFE outer these lines are made specifically to suit Nissan S chassis and even include the P clips to locate the line throughout your vehicle.

The Gktech brake lines have passed independent testing and are marked as complying to FMVSS106 standards, this means they continue to be ADR approved and are DOT compliant.

Brake calipers:
We have opted for the Wilwood 120-10188 caliper for this setup. They are a small but bitey caliper and only caliper that we found to work with the OEM 9mm thick rotors. 


Brake pads:
Over the years we have tested many brake pads with these calipers and ended up at the Wilwood BP-10's. They're economical, readily available, very bitey and last. 

Axle spacers:
As our dual caliper bracket spaces the hub out 7mm this results in the driveshaft essentially being stretched that 7mm to compensate for the thickness of the plate. This can now be taken up with the use of an axle spacer.
We have different sized options available as it is also a good opportunity to select a different size axle spacer if you were running a different diff/driveshafts combination or have a very low vehicle.
NOTE: If you are running standard hubs/knuckles the 5mm axle spacer is required

NOTE#2: Will NOT fit European delivered S-chassis' without the use of JDM or USDM calipers/rotors.

NOTE#3: Designed to be used with standard S-chassis 9mm rear rotors

NOTE#4: The wilwood calipers have a mounting hole of 3/8inch (9.52mm) and the studs used on our brackets are 10mm and as such the 2 mounting holes needs to be drilled out on the calipers to 10mm. This is very much a DIY kit and is easy to do.

NOTE#5: The brackets themselves will NOT fit the Gktech rear drop knuckle

NOTE#6: For the axle spacers, we can only confirm fitment on OEM wheel bearings


FAQs
Will these work with Skyline rear rotors (or others)?
No, this kit is designed to be used with the S-chassis 9mm thick rear rotors. However we dp make a dual 2 pot Nissan (Skyline/Z32) specific caliper kit also. Please refer to our other listings

I've heard dual caliper brackets push your hub out?
Yes, some can as much as 12mm however our brackets only push the hub out 6mm, which is also why we have axle spacers included. 

Is there anything else needed for installation?
Besides brake fluid, everything is included in the kit. BYO tools.

How do I know what size axle spacer to choose?
This kit comes with a bracket that is needed to mount the dual caliper bracket, this bracket goes between the hub and the knuckle.

By installing this bracket you are spacing the hub out 6mm, this is taken up by the driveshaft.

This causing the bearings inside the driveshaft to run on the edge of the cup, which can lead to premature failures.

We suggest adding axle spacers to put the stretched amount back into the driveshaft to ensure it runs further inside the cup and in turn is stronger and more reliable.

We recommend checking which size you need by jacking your car up and dropping it down on ramps, this will load the suspension to its normal operating height. From there, disconnect the diff to driveshaft bolts and with the driveshaft in a relaxed position measure the gap.

Keep in mind the distance of the plate that is supplied with this kit and factor that into the final number, that will tell you what size axle spacer you need.

How do I know which size master cylinder to choose?
Typically the 5/8 master cylinder is proven on an S/R/Z chassis running the single or two pot brakes, the lever feel with this master is balanced, having a longer more typical throw to gauge feel while still efficiently locking the rear brakes. 

The 3/4 master cylinder is larger, so when used in the same setup the lever feel will be more direct, firmer, and require less throw to lock the rear brakes.
VEHICLE COMPATIBILITY
Nissan
CEFIRO A31
S13 CA18 180SX
S13 CA18 SILVIA
S13 SR20 180SX
S13 SR20 SILVIA
S14 200SX/SILVIA
S15 200SX/SILVIA

Not very good
Even with thread sealant and tight fittings, still manages to leak and lose pressure.
Have to cut a section out of your dash just to fit it correctly.
even when fitted to drivers side if you are short you need to cut and move the mounting bracket as you cant move your seat forward enough (seat hits the bracket)
even with it fully bled and working seems to not be very effective on th
Installation of the hydro kit
The installation process was simple. The kit came with everything you needed to complete it minus the spacers which you will need to measure for yourself to get the right size. Only thing I had an issue with was caliper bracket where the caliper slides onto the studs would not go through all the way. Mostly because of the paint so I cleaner it with wire wheel on my dremmel and made the hole slightly bigger and no issues after. I 100% recommend this kit
Awesome kit
Very happy with the quality of this kit! comes with everything you need , easy install
Great product, took some mods
Everything worked as it should have, if I didn't make the changes I did. I'm running an s14 knuckle on my s13, not sure if there was an option for that but either way, an angle grinder fixed that. And I didn't see how the bracket was mounted until it came in. My trans tunnel had to be cut to accommodate a cd009 and a shifter relocater. 2 of the rear bolt holes of the 4 that it mounts to were gone. Had to have come creativity and got the welder out and made some tabs into the side of the tunnel. Yet again, my fault for not looking into it more. You guys make great stuff, keep it up!
Hydro
Great product quality is key